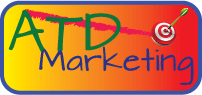 Section Links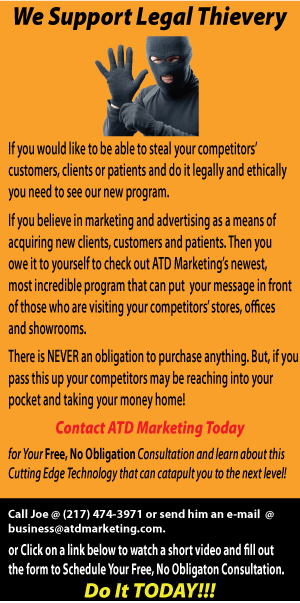 Click Here To contact Joe
---
Not Only Have We Gone Digital, We Have Modernized.
Due to that modernization we have a Xerox 700i Digital Color Press For Sale.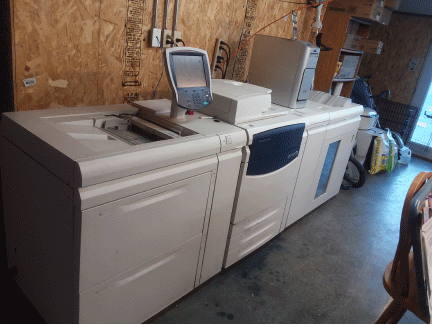 This machine is equipped with a dual oversized feeder w/2 drawers that hold 2000
sheets of paper each.

It also has on oversized stacker for delivery of up to 5,000 sheets before requiring to be emptied.


Machine comes with a large amount of consumables

Toner:
3 Cyan, 3 Yellow, 2 Magenta, 2 Black
Color Drums:
6 Total (1 slightly used) 5 brand new
Charge Corotrons:
4 Qty (1 slightly used)
3 Brand New
Fusor: 1Qty

Waste Toner Containers:
QTY 7
Color Developer Unit
1 New, 2 used; can be cleaned up and re-used
1 Pkg. Yellow Developer Material
Consumables in machine

More Machine Details

Fiery Unit, includes software and Command Work Station 5 Computer Interface
Current Image Counts
Main Services Screen
Fault Screen:
Recently experienced two faults. Fixed first one and second followed shortly therafter. See explanation below.
This machine recently experienced two faults. I did not make note of code for first fault, but it was fixed and machine put back in service. Shortly thereafter it experienced a 010-342 fault that indicated an issue with the decurler inverter drive assembly. I have the part, but have not had it installed. Asking price for machine is considerably lower than if I have it installed and, to be honest, I do not know if this part will solve the problem. Due to that uncertainty this machine is priced so that all you are really paying for are the attachments and the consumables. You are getting a $6,000 machine (if sold separately) for the price of the fiery, the oversized feeder, the heavy duty stacker tray and the consumables. If machine was in top working condition the package would list for $10,497.00 but with the uncertainty of the copier the package can be yours for $6,750.00. Shipping to be arranged and paid for by purchaser. We can get it into your truck or van. (van will hold it)
Click Here to Visit Our
In-House Printing Dept.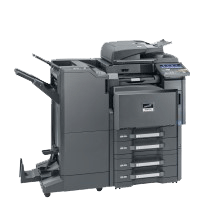 We've Gone Digital!!
New Book by the
Owner of ATD Marketing