Google's "Mice" Update!!!!
If you have a web site, this is IMPORTANT!
As of April 21, 2015 Google we applying its new "mice" algorithms. If your current web site isn't optimized for viewing on a mobile device (smartphones, in particular) You may lose all that hard work you did to get high rankings to justify all the money you have put into your Internet Presence!
Click Here to see why you need to optimize your site and call (217) 474-3971 or e-mail me @ to discuss how you can beat the deadline and save your rankings.
---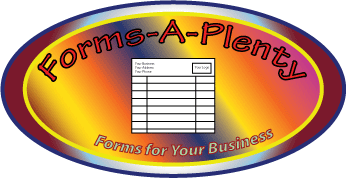 Our In-House print division is your source for all your paper print needs. We specialize in forms of all types for almost any business. From single part to mupti-part forms. Sales books, invoices,statements, forms with card stock parts for stable storage. Forms for plumbers, HVAC, florists, autor repair shops, body shops, just about any size you need up to 11" x 17" in size from single part to 8 parts. We can re-create a form you already use or create a custom form just for your business with the fields you need to make your operation more efficient. With 30 years experience in the printing industry you can rely on Forms-A-Plenty to produce the form(s) you need in a reasonable time at a very competitive cost. Don't let the name fool you. In addition to forms we can supply you with fliers, gift certificates, brochures and almost any item printed on paper.
Automotive Forms
Bi-lingual Forms
Business Stationery
Cash Receipt Books
Collection Forms
Contractor Service Forms
Custom Book Covers
Custom Business Forms
Custom Manifold Books
Custom Multiform Books

Florist Forms
General Repair Forms
Gift Certificates
Hospitality Forms
Human Resource Forms
HVAC Service Forms
Invoices
Janitorial Forms
Job & Time Forms
Kitchen/Bath Remodeling

Medical Forms
Memos
Pest Control Forms
Protection/Security Forms
Purchase Orders
Ready-To-Go Forms
Register Machines
Rental/Video Rental
Sales Books & Forms
Shipping/Receiving Forms

Design-A-Form
Document Jackets/Floor Mats
Door Hangers
Landscape Forms
Marine Repair Forms
Statements
Special Retail Forms
Tags
Work Order Forms

As you can see, ATD Marketing's Forms-A-Plenty Division can provide you with just about any type of Form you may need to support your business. All we ask is the chance to assist you in your continuing quest to operate a profitable business.

Basic Custom Form Types and Prices.

8 1/2" x 11" Forms

2 part

500

1,000

1,500

2,000

$132.28

$247.00

$351.00

$429.00

3 part

500

1,000

1,500

2,000

$158.73

$296.40

$421.20

$514.80

5 1/2" x 8 1/2" Forms

2 part

500

1,000

1,500

2,000

$92.59

$172.90

$245.70

$300.30

3 part

500

1,000

1,500

2,000

$111.11

$207.48

$294.84

$360.36

5 1/2" x 8 1/2" Sales Books

2 part

5 Books

10 Books

15 Books

25 Books

$97.57

$137.45

$192.75

$289.67

3 part

5 Books

10 Books

15 Books

25 Books

$118.73

$147.40

$221.20

$327.80

Set-up Charges: $25.00-$35.00 in most instances (Can be waived if certain requirements are met)

Numbering: $65.00 for 1st 1,000 (including set-up). $30.00 per additional 1,000 or any part therof.

If you need a different size form or one with more parts just call 217-474-3971 or e-mail us and we'll be happy to give you a quote. Some times one-size doesn't fit all and you need something special. Forms-A-Plenty knows this and is prepared to go that extra mile to make sure you get what you need even if it doesn't fit the standard mold. Give us a try, you won't be disappointed.

We ship UPS Ground or Priority Mail whichever is least expensive for you or in any manner you prefer.

These are just a sampling of what ATD Marketing can provide you. Let's talk about how your business can profit from what we offer you.