Does writing copy leave you flat?
Well, It doesn't have to...
The small, locally owned business is the backbone of our economy. We are one. We understand what you face and we want to help you overcome all the obstacles that stand in your way.
One of those obstacles could be writing copy for your marketing programs.
"Marketing, there you go again!" you might think to yourself. Remember, as the business owner it is your main responsibility to: Acquire New Customers/Clients or Patients; While at the same time: Keeping your existing Customers/Clients or Patients Engaged and Purchasing More.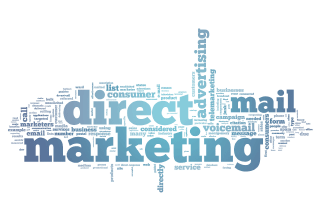 In order for you to accomplish this task you must have copy. Copy for your mailings, copy for you e-mails, copy for your web site, copy, copy, copy…
I know you are overwhelmed and I know you know this, but just don't have the time to set down and do it yourself. Remember, I am a small business owner myself and I know I don't have enough time, let alone skills to do many of the things my business needs. That's why we have employees or hire others to do certain things for us. There is NO shame in that.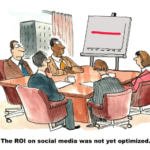 We can't be experts in everything. This is where ATD Marketing might be able to help. We don't claim to be a Dan Kennedy, even though we try to follow his advice. And we aren't AWAI, even though we are dedicated to utilizing the training they offer to advance our skills.
What we are, is a small business just like you. We have been involved in the printing and marketing business for over 30 years. We have seen much of what works and we have looked at it with the eyes of a small business with a small budget and we have realized just how frustrating it is to KNOW you should be marketing and feel at a loss as to how to write all that copy.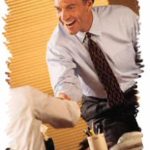 As previously stated on this site, We are a bit Different. We do try to follow the lead of one of the best copywriters and marketers, Mr. Dan Kennedy. That means we tend to utilize Direct Response methods and that right there separates us from the herd.
Many, if not most, businesses think that building their BRAND is the most important aspect of their marketing message. They couldn't be more wrong! Many a business has gone broke trying to build their brand and ignoring the one thing they need even more. SALES!!!!!
We believe Dan Kennedy when he says that sales are what drives a business and if you succeed at that your brand will build itself.
So at ATD Marketing we concentrate on writing copy that sells! We concentrate on copy that has a "Call To Action" because we know that you cannot create a customer/client or patient until they contact you.
The entire focus of any marketing or advertising you do should be directed at getting it viewed and getting the viewer to contact you once they have viewed it.
Once they contact you you have the opportunity to turn them from prospects into customers/clients or patients. But until they contact you there is no opportunity.

We even offer programs that charge a small monthly fee and only when you get contacted do you pay us a commission. We call it "Our Pay For Performance" program and I would be happy to speak with you about it.
So, if you need copy you can rely on ATD Marketing. We have the experience, we have the training and we have the difference that can take you from a commodity to a necessity!
Contact me today and let's talk. There is never any obligation and the end result I am looking for is simply an informed decision.
Contact me today and schedule a "No Cost", "No Obligation" consultation & I'll send you our "Wooden Nickle" perpetual coupon as a thank you gift. No purchase necessary to get the nickle and we'll pay the postage. The Nickle gives you a 10% discount on any purchase of our services over $250.00 you make. You will get this discount forever, as long as you show it to us at the time you make the purchase.
In the event you make your purchase on line or on the phone and can't show us the nickle, there will be a number written on it that you give us to authenticate your discount.
Just fill out the form below and I will contact you to set up your consultation and when we confirm that I will send you your nickle and you can use it if and when we decide to work together.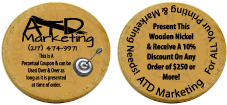 Our "Pay For Performance Programs" start for as little as $100.00/mo. with bonuses for success starting at $125.00. All details will be determined at the time of our consultation should you decide to proceed.

I hope to speak with you soon and get that Wooden Nickle right out for you to use.