Our Monthly Newsletter ~ Your Business Is...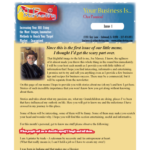 We publish a monthly newsletter that we hop entertains the reader, infomrs the reader and on occasion offers the reader a deal. It contains personal musings from me, business advice and tips and a little humor as well. Some months you might even get a recipe!
If you are interested in reading them just click here.